These are the primary decision-making, executive and managerial bodies at Portugal Space:
General Assembly
The members of the General Assembly are the founding and adherent associates of Portugal Space. This body includes a president, a vice-president and a secretary, whose functions are not remunerated.

The General Assembly is responsible for:
appointing and dismissing the president, vice-president and members of the fiscal council;

approving the previous year's management report and accounts, as well as Portugal Space's annual and multi-annual activity plan;

Approving the agency's budget for the following year;

Approving the admission of new associated members;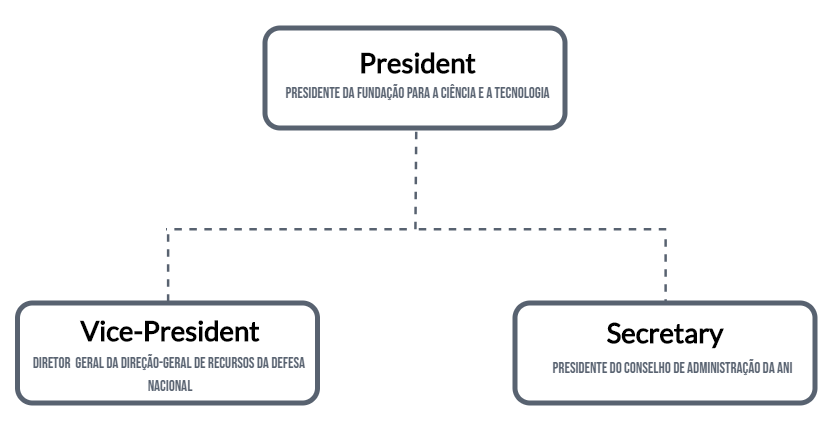 The board meets on a regular basis to discuss matters of global importance to the space sector and to the Agency.

The Board is responsible for:
strategy;
overall management and distribution of responsibilities;
responsible for renewal of personnel;
front-line person;
Head of Delegation (HoD) to the European Space Agency (ESA) on behalf of the Portuguese government and responsible for Portuguese representation at ESA in all subordinate bodies;
HoD to ESO on behalf of the Portuguese government and responsible for Portuguese representation of the European Southern Observatory (ESO) in all subordinate bodies;
responsible for international and institutional relations;
responsible for coordination of Portuguese delegates in all bodies related to space;
responsible for keeping an updated innovation policy for the space sector in Portugal;
reporting to the General Assembly, the Financial Committee, and exchanging with the Strategic Advisory Committee.

The President of the Agency, supported by the Board through its executive members, must ensure that the following functions are covered by an adequate appointment of staff, as well as by outsourcing and acquisition of external advice, as the agency grows and evolves.
business, procurement and Financial
oversight of inner and outer business of the

agency

search for and assess new business cases, devising growth strategies

financial oversight of agency activities (inner business), including financial planning, record-keeping, and financial reporting

proposing (and designing new) partnerships, public-public as well as public-private, allowing new business venues and design models for public-private partnerships

maintaining and overseeing of partnerships from a business point of view

monitoring the entire space sector and developing an up-to-date innovation policy
implementation
implementation of all projects approved and embraced by the agency
providing regular updates at management and extraordinary meetings if needed
supporting of space-related incubation programmes
infrastructure
guaranteeing full availability of the agency's infrastructure to ensure that the agency can be fully functional at all times.
secretariat
ensure daily administrative tasks for the agency
Legal
responsibility for all legal and policy matters
proposing new regulatory elements related to new business cases and markets
supporting and enabling procurement matters and actions
communication and outreach
presenting and promoting the space agency's activities through conventional and new communication opportunities;
organising events, providing an interface to media, promoting outreach and educational initiatives for the general public and young children in particular;
marketing of Agency products or services.
delegation and representation
ensure representation of Portugal in all European and international bodies relevant to the national space strategy set.
Qualities and Main Functions and Associated Responsibilities of the Board

leader, visionary;

goal oriented and structured;

deep understanding of the Portuguese framework;

experience with public procurement;

up-to-date on frameworks on a national, European, and international level;

good understanding of national, European and international markets (space and non-space, business understanding of space activities, knowledge of entities involved in the projects related to the space sector);

experience with financing, with private and venture capital;

understanding of government priorities in economic growth (contact and experience with ministries);

open, dynamic, flexible, customer oriented.

members of the executive board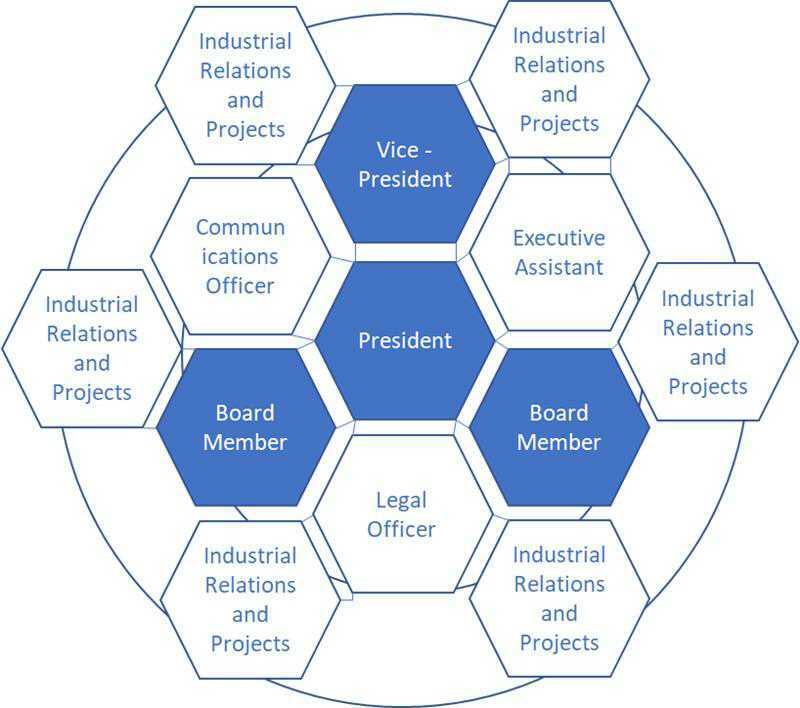 Financial Committee
Without executive functions, Portugal Space's Financial Committee has three elements, one of which must be a statutory auditor. The General Assembly designates Financial Committee's members, who cannot hold any administration or day-to-day management functions at Portugal Space.

The Financial Committee is responsible for:
overseeing the financial and management reporting process, as well as Portugal Space's system of internal controls and compliance with laws and regulations;

reflecting on the annual report and accounts, as well as the activity plan and budget for the following year;

commenting on any subjects submitted to it by the Portugal Space management bodies

proposing to management to carry out stern audits when appropriate

Financial Committee members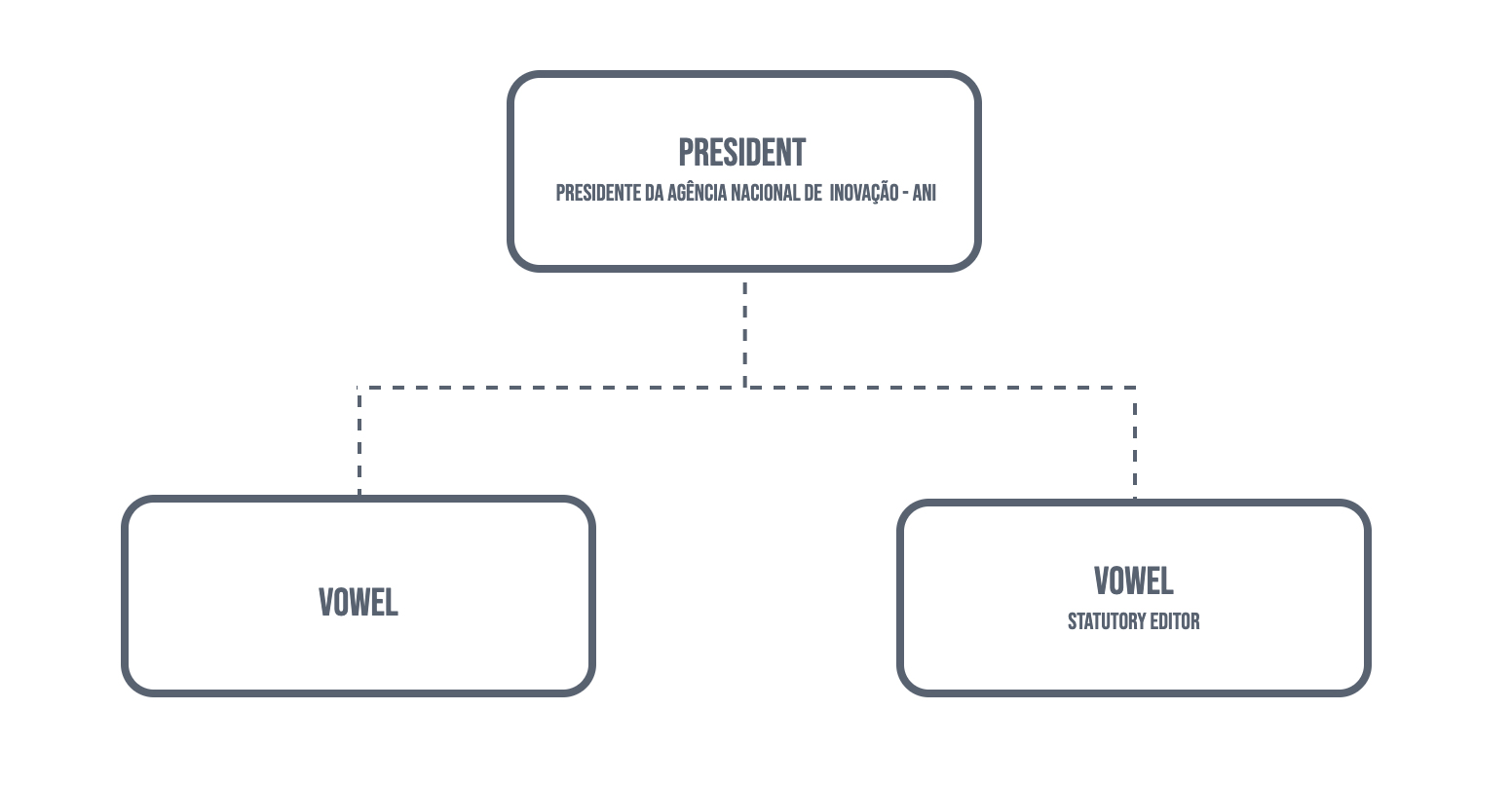 [more information regarding Our Governance can be found at the Agency's statutes available here]