Portugal launches calls to select SMEs
to establish international Copernicus Partnerships
Portugal Space together with the AIR Centre will organise a roadshow in South Africa, Brazil, Cape Verde and Nigeria to promote the use of satellite data and the internationalisation of European SMEs that use Copernicus data in their business. Only the best SMEs will participate in this roadshow.
Copernicus is the European Earth Observation Flagship Programme that provides free and open access to geospatial data not only in Europe but across the Globe. The programme relies on satellite imagery as well as in-situ data to produce added-value services and products which can benefit many different sectors of our society such as Agriculture, Forestry and Infrastructure Management. These capabilities are relevant in many regions of the World, namely in Africa and South America, which still do not make full use of the possibilities offered by this world-class Programme. In addition, SMEs that develop downstream applications based on Copernicus data, often struggle to consolidate international networks to be able to collaborate with new partners and offer their services to new potential customers abroad.
In order to tackle this gap, as part of the activities funded by the Framework Partnership Agreement on Copernicus User Uptake – FPCUP*, the Portuguese Space Agency, Portugal Space, together with the AIR Centre will organize in the upcoming months four events in Africa and South America to promote the use of Copernicus and the internationalization of EU SMEs that resort to Copernicus data for their business.
This initiative will support the participation of up to 40 EU SMEs (10 different SMEs per encounter for a total of four conferences) in events taking place in South Africa, Brazil, Cape Verde and Nigeria. The Portuguese Space Agency will open a total of four calls to select companies that will receive financial support to attend and engage in these events in person.
The first call is expected to open in September 2021 and will select 10 SMEs with the most innovative proposals with a focus on South Africa. The following calls will open every 3-4 months during 2022.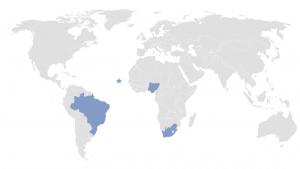 The roadshow will take place in South Africa, Brazil, Cape Verde and Nigeria.
If you wish to receive more information when the different calls open, please register here.
[*This event is supported by the European Union's Caroline Herschel Framework Partnership Agreement on Copernicus User Uptake under grant agreement No FPA 275/G/GRO/COPE/17/10042, project FPCUP (Framework Partnership Agreement on Copernicus User Uptake), Action No. 3, Action title "Portuguese users coordination and training – Part II (Portugal Space, Direção-Geral do Território and Air Centre)", SGA grant no 13.]