Ana Pires, the analog astronaut that saw Martian sunrises in the desert
For two weeks, INESC TEC's researcher participated in an analog mission at the Mars Desert Research Station (Utah, USA). The stay in "Mars" was difficult, but rich in knowledge: "All these experiences and learning are extremely important", she emphasises.
Utah desert, United States. Reddish earth, rugged rock formations, dry, infertile soil. Hardly anyone would guess that this is where otherworldly possibilities are being studied and tested — literally. At 6 am, the day dawns and the sunny landscape makes it look like we're on Mars. Ana Pires, a researcher at INESC TEC, saw this Martian dawn on US soil for a fortnight in May, participating in a analog mission that simulated life on the red planet.
A "once-in-a-lifetime opportunity" spent in the Mars Desert Research Station (MDRS) habitat of the Mars Society, an international organisation dedicated to space advocacy and aiming for permanent human colonisation of Mars within the next decade. In the desert, every day "was different". A mission like this, which isolated Ana and the rest of Crew 281 in Utah, is complex.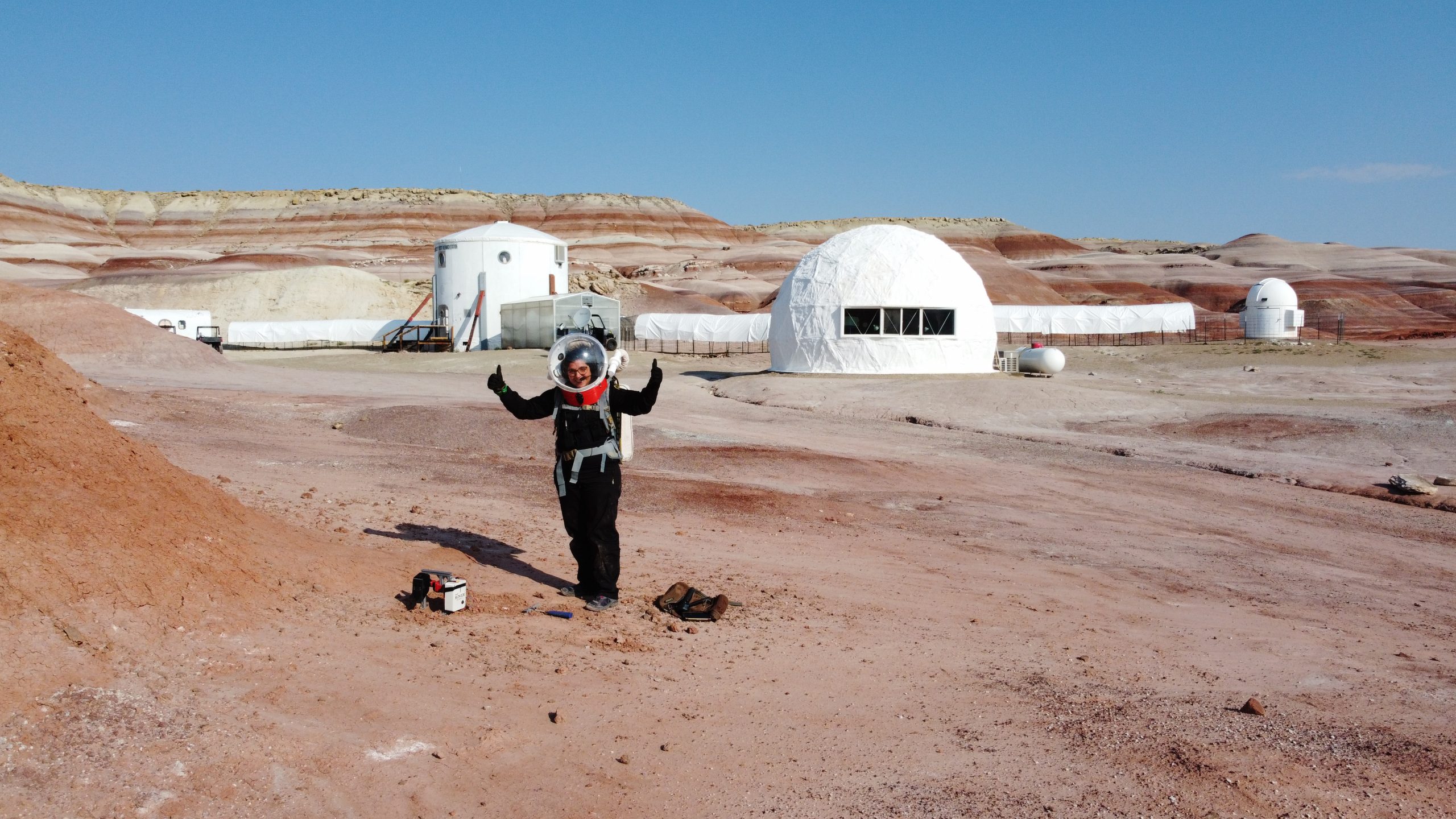 Ana Pires spent two weeks in Utah. © DR
"The main goal is to simulate a mission to Mars, perform extravehicular activities [EVA] with the spacesuit mock-ups, test communications between the EVA team and the habitat, perform routes with the existing rovers, report all activities to the mission support, cook and eat dehydrated food very similar to that of real astronauts and perform our scientific experiments throughout the mission", explains Ana Pires.
In this last mission, she was the scientist of Crew281, called "Pegasus", which included three other colleagues from the United States of America and India. Her participation was supported by the Portuguese Space Agency, INESC TEC, ISEP, the Luso-American Development Foundation (FLAD), Women in Tech Portugal, the telecommunications company Decunify, Ooze Nanotech and the Vasco Vieira de Almeida Foundation.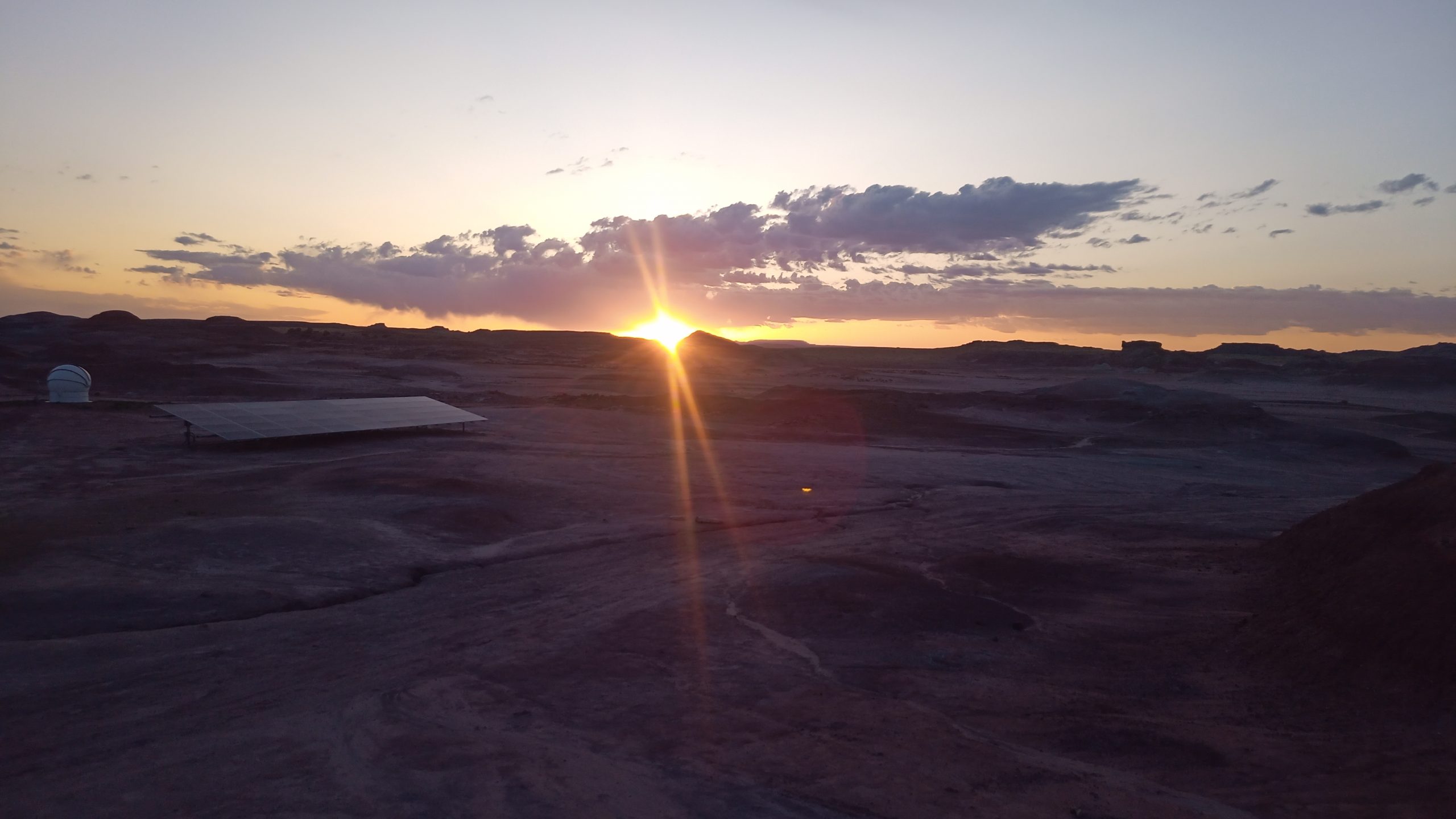 Os tons avermelhados do deserto do Utah lembram Marte. © DR 
The Portuguese analog astronaut departed for the desert with a "very clear" objective: "As a scientist, I wanted to carry out a geological-geotechnical study of the area, test geotechnologies for measuring the hardness of rocks and test a subsystem for collecting samples." The study, she says, "would be a preliminary assessment for construction and engineering on Mars, as the goal will be to build base camps in the future".
There, she also tested the first prototypes of T-shirts with intelligent textiles, developed by a company from Guimarães, Ooze Nanotech, prepared for extreme environments, since clothing "is of great importance to astronauts".
A challenging mission, but one that will be missed
Off-station activities were usually carried out in the morning "to avoid the high desert temperatures", while afternoons were dedicated to data processing and sample weighing. Vegetables were collected from the greenhouse and analysed according to weight and "energy and water levels". "In the afternoons, I would always take the opportunity to walk along the access tunnels to one of the spaces called the Science Dome, one of my favourite places, where I would work and enjoy the view from the window to the outside of 'Mars'", she adds.
Dinner also had to be prepared, except when there were "leftovers from lunch". In the midst of all this, there were reports "that had to be submitted every day" and "photos to select" until 9pm, the deadline for internet access (which was only available from 6 pm onwards).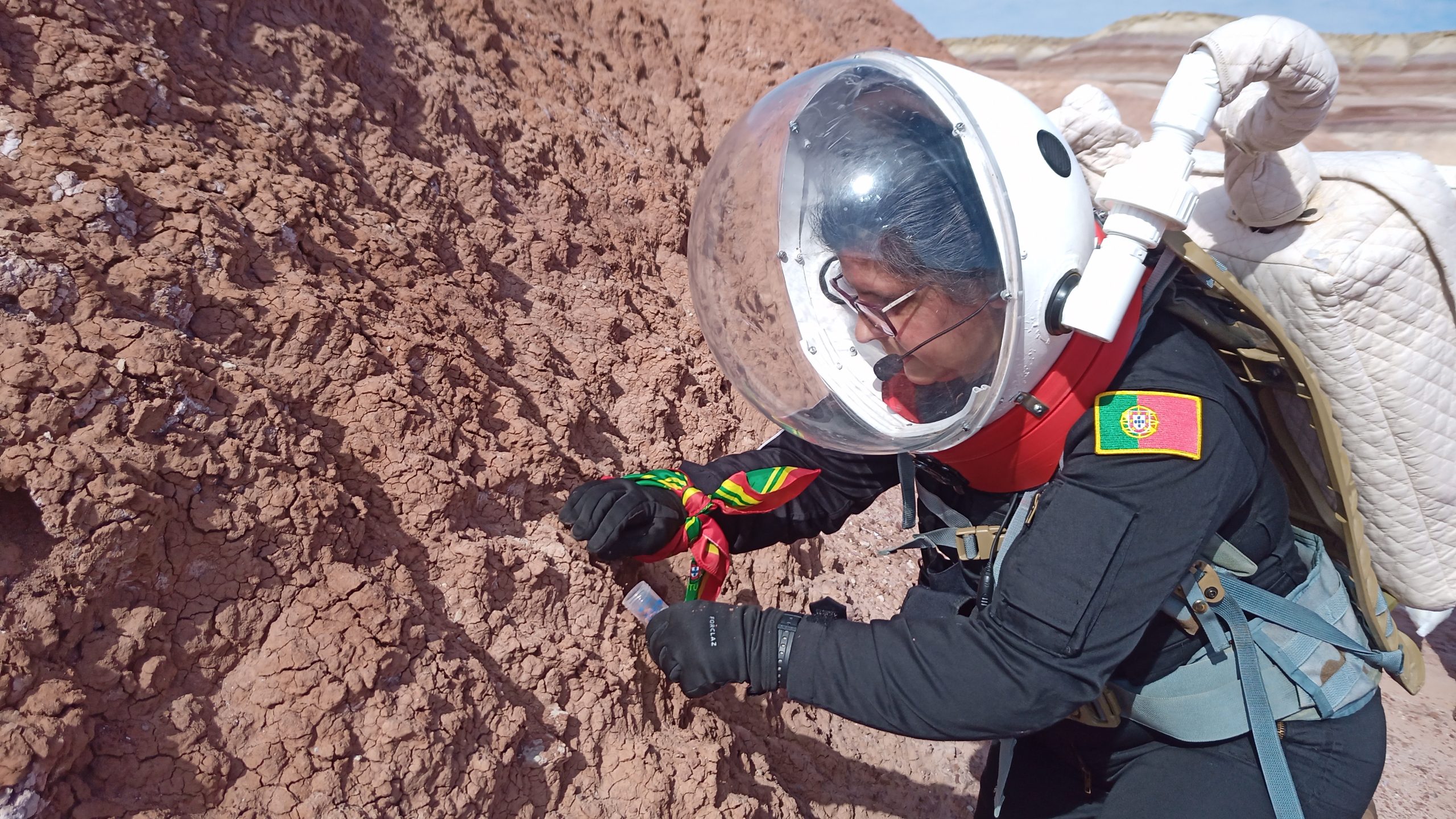 Handling equipment and technology or collecting samples were challenging activities. © DR
In a hostile and isolated setting, the technology and the environment are not the only objects of study. "The social part was also a challenge", says Ana, for whom "social relationships are of the utmost importance in a mission of this kind".
A analog mission is a constant challenge. In addition to the spacesuit used for outdoor activities, there was "about 20 kilos on my back" and the gloves did not make it easy to "handle equipment and technology" or "collect samples"; driving rovers in the spacesuit was not the most pleasant experience and "the lack of visibility with the helmet on" was also a problem.
We cooked using "dehydrated ingredients" and therefore we dealt with the "adaptation of the body to this type of food"; we worked with "rationed water and food"; we prepared several reports every day. And there was, of course, isolation from the outside world.
How to overcome these adversities? "By focusing on my goals: I'm here to learn, experiment, and bring back scientific data." Even though it was "very intense and difficult", Ana Pires has no doubts: "I will miss the mission. I miss it already!"
Still, she admits it's good to be back "home". And to do what she likes: walk on Espinho beach, where she was born, enjoy the pampering of Kwanza, a dog "full of energy", watch "Family Guy", read, attend concerts, listen to music and play "viola, piano or harmonica". Or a coffee in Santa Maria da Feira, the town where she grew up. "Simple things, but they make me very happy", she summarises.
!All these experiences and learnings are extremely important for Portugal", says Ana Pires. © DR 
There is no innovation without sustainability
Coffee was the one thing that was not left at the end of the mission in Utah. The ration she took to the desert was enough for a fortnight, but it finished "two days before the end". But Ana Pires brought something that encourages and stimulates her much more: "All these experiences and learnings are extremely important for Portugal, for my institution, INESC TEC, and for me as a scientist. All the data obtained during this mission will be processed for future scientific publications", she adds.
The aspiring scientist-astronaut revealed at this year's GLEX Summit that the Gruta do Natal, on Terceira Island, will host Portugal's first "Mars analog space mission". The knowledge she acquired in Utah can be of great help to the Cave Analog Mission (CAMões).
Apart from that, and as a passionate about "education and communication", – she gathered material to later "show to the youngest": "I dedicated myself to get a lot of images and make a lot of educational videos". This is also one of her favourite hobbies, as she says she loves to dedicate herself to promoting "STEAM activities in schools, kindergartens, with children and young people."
After all, they are the ones our planet will be left for, "and it is worth preserving". Science contributes to this and, she argues, there is only "innovation with sustainability". "Sustainability is our responsibility, humans, researchers. It is our responsibility, but for that we need all minds working together, all approaches, and multidisciplinary teams, with a common goal: to evolve."
It is this line of thought that has governed Ana Pires' work at CRAS since 2017. Since then, she has been studying the interaction between three different but very connected spheres: "Many of the technologies that are developed for the Earth or the Sea can help in the exploration of Space. And vice versa: space technology can help solve problems here on Earth. For me, everything is interconnected. Innovation with sustainability is our challenge, in all dimensions, on Earth, under the Sea and in Space."