France-Portugal Season strengthens ties between Portuguese Space Agency and CNES
Organized by the Institut français, the nine-month 2022 France-Portugal season came to a close at the end of October. With some 500 multidisciplinary events in 87 French and 55 Portuguese towns and cities, it has celebrated French-Portuguese friendship. Focused on compelling themes like the oceans and environmental conservation, the season also provided the French and Portuguese space agencies the opportunity to strengthen their ties through joint projects giving rise to fruitful exchanges and strong synergies, backed by the Institut français and the Portuguese Commissary.
March – Spatiobus in Portugal
Created by CNES, the Spatiobus is a roving science outreach platform focused on space applications and technologies and is also equipped to receive telemetry from rockets and balloons designed and launched by youngsters. From 7 to 25 March, it ventured outside France for the first time to travel the length of Portugal. Coordinated by Ciencia Viva, the Portuguese science and engineering outreach organization and the Portuguese Space Agency, a range of activities led by CNES's partner association Planète Sciences gave some 1,500 schoolchildren and teachers a chance to build small satellites, conduct oceanography projects and more. The French and Portuguese entities were thus able to draw on each other's experience and know-how, and the learning methods employed by the Spatiobus proved a valuable addition to Ciencia Viva's palette of tools. CNES also took this opportunity to spotlight a broad range of engineering skills and French scientific excellence. This French-Portuguese collaboration brought space to the wider public, particularly in towns a long way from major cultural centres.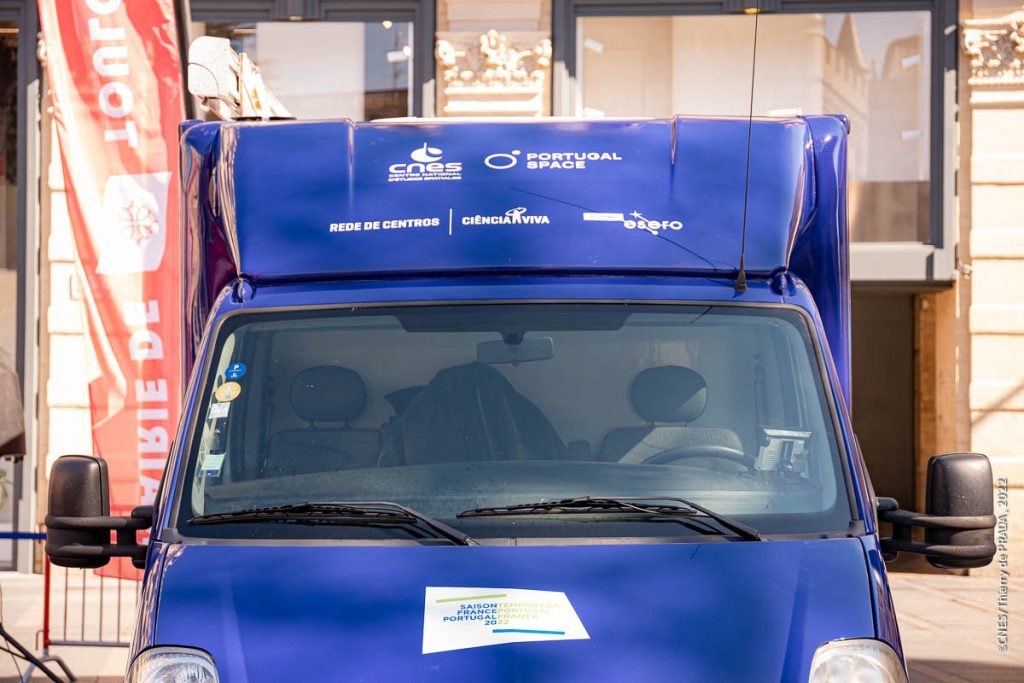 Spatiobus brought space to 1.500 students and teachers in Portugal. © CNES
March to May – Photo exhibition: A satellite's eye view of the French and Portuguese coasts
This spring, an exhibition showing the French and Portuguese coasts from a satellite's eye view visited Bordeaux in France (from 4 to 29 April) and Guimaraes in Portugal (from 8 March to 10 May), with pictures acquired by the French Pleiades and Portuguese Geosat satellites. This exhibition showed the public the importance of efforts to safeguard our oceans and preserve the environment and biodiversity while highlighting the key role of Earth-observation satellites in informing environmental, social, scientific, economic and political decisions.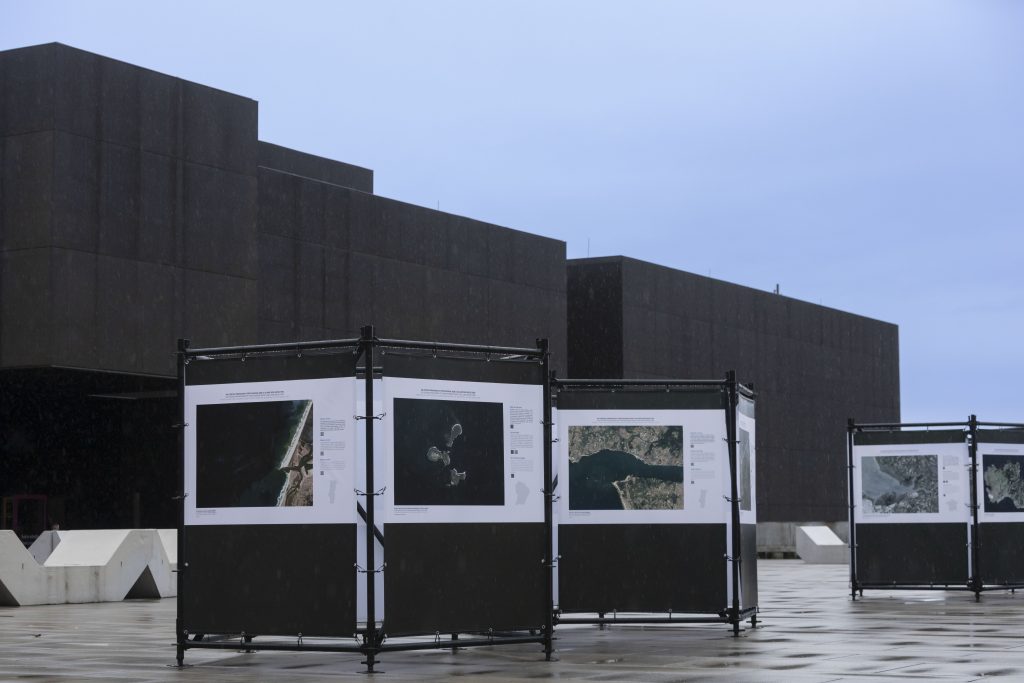 The exposition was held simultaneously in Guimarães and Bordeaux. © Portuguese Space Agency
July and October – EuRoC and C'Space join forces for education
The European Rocketry Challenge (EuRoC) and C'Space are two science, technology, engineering and mathematics (STEM) outreach programmes conceived respectively by the Portuguese Space Agency and CNES to encourage youngsters to pursue science and engineering studies and promote space-related careers.
The France-Portugal season gave the two agencies the opportunity to combine their outreach efforts. C'Space is the yearly summer space event where students get the chance to launch rockets, balloons and Cansats built during the year for CNES's educational projects. This year's C'Space was held in Tarbes from 16 to 23 July. In this year's edition of EuRoC, 25 teams were accepted to launch their rockets. 18 teams were able to build and assemble their rockets in Ponte de Sor and launch them at the Santa Margarida Military Camp from 11 to 18 October. One french team out of the 18 competing teams made the trip for this inspiring event.
October – Student Parabola
Every year for its youth education programme, CNES organizes a Student Parabola flight campaign to give French teams of students the chance to do experiments in microgravity conditions aboard the Airbus ZERO-G aircraft operated by Novespace. For this year's campaign, CNES and Portugal Space brought together universities and top engineering schools in both countries to form international teams. The LOTUS project, a team effort between students from the ISAE/Supaero aerospace engineering school in Toulouse, France and the Instituto Superior Tecnico in Lisbon, Portugal was selected. This experiment notably tested origami structures in microgravity. The parabolic flight campaign took place in Mérignac, France from 3 to 7 October. The France-Portugal season offered Portugal Space and Novespace a framework to forge closer ties, with flights in France and Portugal.
CNES Chairman & CEO Philippe Baptiste hailed the success of this 2022 France-Portugal season now coming to a close: "Cooperation is a core value in space, and this season showcases the excellent cooperation between CNES and the Portuguese Space Agency. I'm delighted to see such a good working relationship between our two agencies, which enabled us to put together the photo exhibition and organize the parabolic flights and Spatiobus tour. The season has simply strengthened the existing ties between us, and we shall be working together to develop new avenues for cooperation in the future."
The president of the Portuguese Space Agency, Ricardo Conde, also highlighted the cooperation between the two space agencies as a reason for the success of the 2022 France-Portugal season: "Having CNES and the Portuguese Space Agency working together to promote space proved to be very rewarding. The Spatiobus tour reached several parts of the country and brought young people closer to space; that also happened with the Guimarães exhibition, which proved to be a success, reaching a larger audience and promoting conversation about climate change."