João Lousada: "The first person to walk on Mars
has already been born"
The aerospace engineer has already participated in four analog missions, which aim to simulate human life conditions in extreme environments. That was the case for this last mission, in Negev, Israel - a desert that in many ways resembles Mars, the planet where João Lousada believes we are very close to leaving a footprint.
In October of last year, Mars was in the south of Israel. The characteristics of the Negev desert, which covers a large part of the country, are very similar to those of the red planet. For this reason, the vast desert was used as the location for the mission AMADEE-20, which simulated life conditions on Mars. This is called an analog mission: "By simulating different space environments, these missions allow us to test the equipment and the experiences we want to have in those environments", João Lousada explains. What we want is "to make the most amount of mistakes here on Earth." Only mistakes allow us to anticipate and correct problems in equipment, for example, to avoid them in future missions on Mars, "or in another environment, we may be simulating".
The analog astronaut João Lousada has completed almost a handful of these missions. Negev's was "the most challenging", and also the first where he commanded the crew selected by the Austrian Space Forum (OeWF). The opportunity to undertake these missions appeared "in 2015 when OeWF started accepting applications for the position". For this Lisbonite, it made perfect sense to apply given his desire to "contribute to the future of space exploration".
And the fact is that this man who also doubles as an aerospace engineer contributes daily to the human ambition to explore Space. His day-to-day work is at the German Aerospace Centre, in Munich, Germany, where he leads the flight control crew who manages Columbus, the European module of the International Space Station (ISS). He is the first Portuguese flight director at ISS.
Just like in the analog missions, João Lousada's work at the Columbus Control Centre is quite challenging, particularly because "each day on board the International Space Station is different". "One day we might be conducting physiological experiments, physical or biological, and the next day we might have the arrival of a new space vehicle with new supplies or even new crew members… And on still another day we might have to deal with an emergency or another problem in the life support or power systems at the station", he says.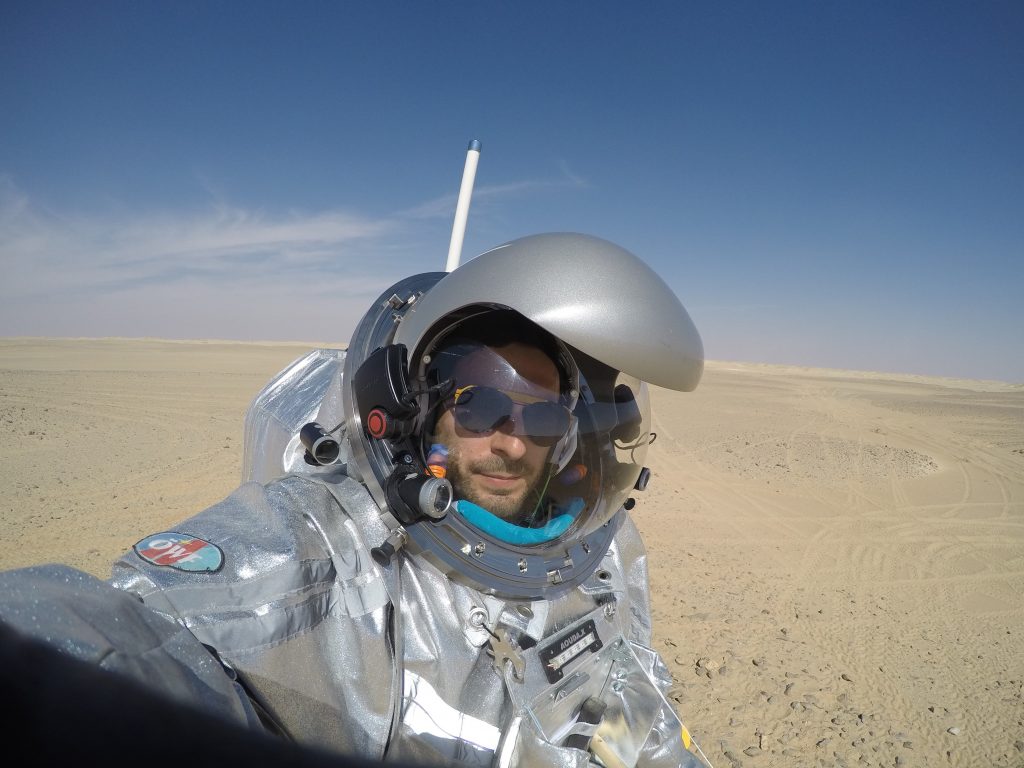 João Lousada has completed almost a handful of analog missions. © DR
That's what happened recently, in November, when the destruction of a satellite created "a big field of space detritus posing a potential risk for ISS". "It was certainly one of the most intense work shifts I've had", tells João. When the crew was notified of the incident during the night, "the astronauts were already asleep".
"We had to wake them up so that we could react quickly and as a team, according to our training and the established protocol. We started by isolating the most external modules – that is, those most exposed to a possible impact – and to reconfigure the station's systems, like the life-sustaining system, to deal with this situation", he begins.
While they followed the orbit of the detritus and calculated the risk of collision, and due to the proximity of both orbits, the astronauts were isolated "inside their spaceships, in order to be able to quickly evacuate the space station and safely return to Earth, in case of a major impact." "In the case of a minor impact, measured by the loss of atmosphere inside the station, we would try to return to the station to find the area of impact and isolate the air leak", he concludes.
In spite of the fright and the adrenaline, João recalls that it was "excellent" to see how the different teams, "flight controllers as well as astronauts, reacted quickly and effectively to a high risk situation".
Situations like these summarise well the responsibility of a flight director. João is responsible "for leading the different flight controllers from different specialties", ensuring that "the teams work together and according to the mission's objectives, defining priorities and deciding how to react in cases of emergency or other problems" and, "above all, to preserve the safety of the astronauts on board", as was the case then.
All of this means that many times flight controllers have to work "in shifts of 24 hours because they fulfill essential functions" – and that includes holidays and weekends. "In this way, there isn't a typical workday for a flight controller, which can also be seen as a positive, since it means the work is definitely never boring!" – João Lousada points out.
Constant challenges
It's already clear that this Portuguese man likes challenges – be they in the desert or at the German Aerospace Centre. He likes them even in his free time: "I particularly like sports and hobbies that make use of a technical component or human ingenuity to conquer inaccessible environments in different ways, like diving, climbing, parachuting, aviation or snowboarding."
Nevertheless, there is nothing like a desert similar to Mars. Let's go back to Negev. In this mission, João Lousada led a crew composed of five more analog astronauts from different countries. "Not only was our mission more complex, but it was also our longest mission, and it's when we were mostly isolated from the outside world", he tells us. As mission commander, he had the responsibility to ensure its success, but also "the safety of all who were a part of it".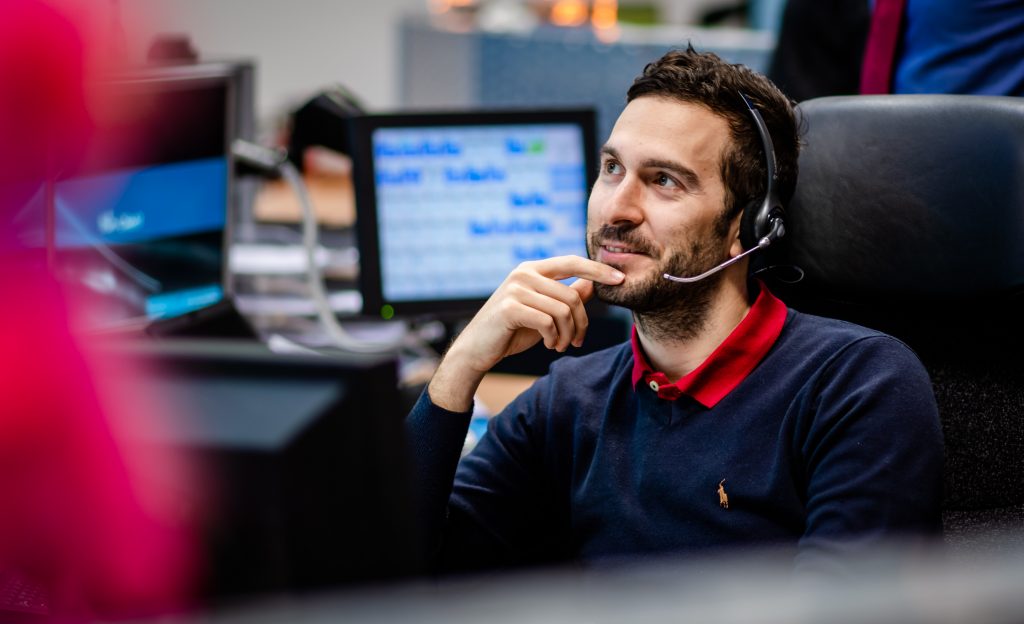 The Portuguese analog astronaut is an ISS flight director. © DR
It's no easy task. The entire crew needs to be in "optimal physical and mental condition to deal with the challenging environments of these missions." Because as analog astronauts, the members who participate in these missions also have to wear a heavy suit "weighing 50 kilos in total, which makes movement difficult, just like a spacesuit on Mars". In a "usually hot" environment and in which the terrain is unkind, one can easily imagine the difficulty.
The mission was also mentally challenging: the analog astronauts were isolated from the outside world for four weeks (from the 4th to the 31st of October, 2021). "Just like on a mission to Mars, we don't have direct communication with our control center – only with a 10-minute delay in communication. And that might not seem much, but those 10 minutes already make any direct communication impossible, like a phone call or a video conference", he explains. These limitations "end up also having a big impact in our contact with family and with friends". "I would say that is always the most difficult part of these missions."
So close to Mars
João Lousada's interest in Space started precisely with family, during his childhood summers spent with his grandparents in the village of Bouçã, in Figueiró dos Vinhos: "I remember going out with them to watch the starry sky. Being from Lisbon, I was always impressed with the number of stars I could see from my grandparent's village." His appreciation for infinite Space continued through the years and later, he chose this area to study: first with Aerospace Engineering at Técnico Lisboa (IST), followed by studies at Barcelona Tech (UPC) and the University of Victoria, in Canada. Nowadays, he focuses on Mars.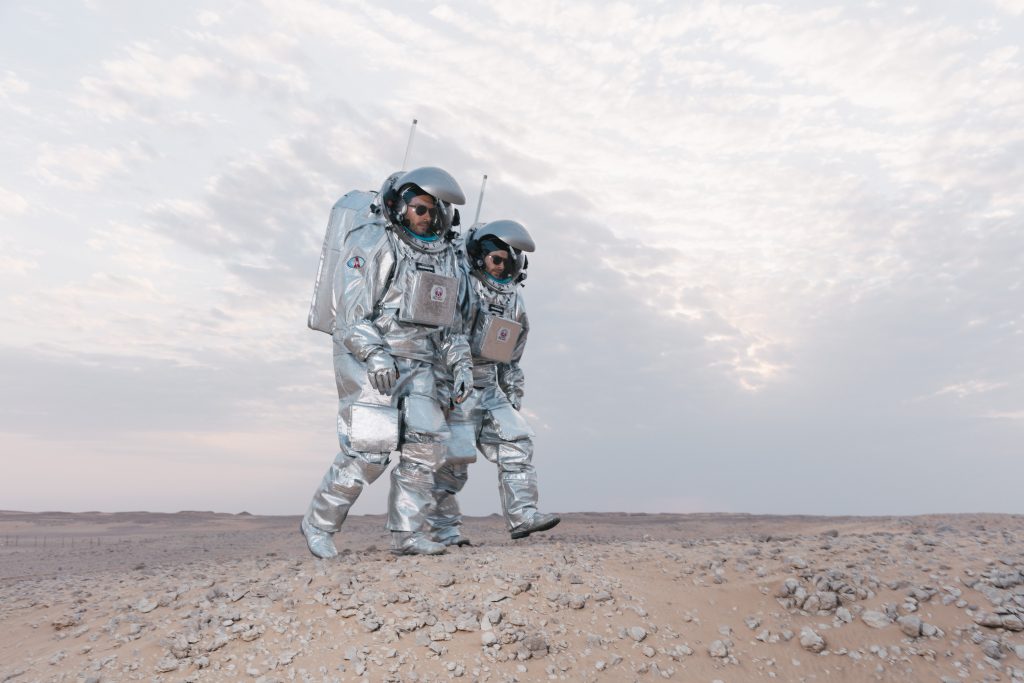 João Lousada commanded the crew in the Negev mission. © DR
We are "closer than many people think" to finally leaving a footprint on that planet. "There are challenges and problems we still have to solve and, because of it, it makes sense to conduct these analog missions. But I believe it is only a matter of time until we solve them", he states. So close, he risks a bold prediction: "I firmly believe that the first person to walk on Mars has already been born!"
This is an idea that also motivates João Lousada in his work and in the demanding missions he participates in. "To think that I could have contributed to that first footprint on the surface of Mars is something truly special."